Jay L. Ajmo, DDS, DABOI, DICOI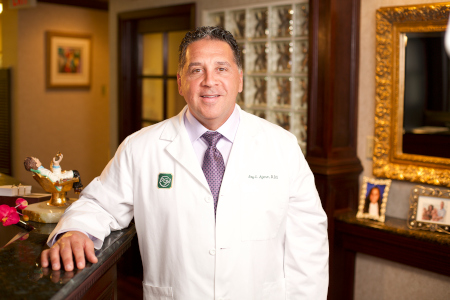 Dr. Jay Ajmo credits his passion for cosmetic dentistry to his many years of training under Dr. Ronald Goldstein and Dr. Larry Rosenthal, both recognized pioneers in the field of cosmetic dentistry. Dr. Ajmo was also deeply inspired by Dr. Carl Misch who trained him in the most advanced techniques in dental implant surgery and restoration.

The Rosenthal Institute for Aesthetic Dentistry has awarded Dr. Ajmo the coveted Master's Level in Aesthetic Dentistry and is an active member of the American Academy of Cosmetic Dentistry. Dr. Ajmo is one of only 500 dentists in the USA to hold a Diplomate Certification from the American Board of Oral Implantologists. He's also a Diplomate of the International Congress of Oral Implantologists, Diplomate of the International Dental Implant Association and has a Mastership from the Misch International Implant Institute. Dr. Ajmo is also Board Certified in IV sedation and Oral Sedation therapy and maintains an active membership with the American Society of Dental Anesthesiology.

He has been practicing cosmetic, restorative and implant dentistry in his Palm Beach Gardens practice, PGA Dentistry since 1987. He now owns 3 dental practices and is expanding his organization through practice acquisition.


CREDENTIALS & CERTIFICATIONS

Doctor of Dental Surgery, Emory University School of Dentistry, 1986
Diplomate, American Board of Oral Implantologists
Diplomate, International Congress of Oral Implantologists
Diplomate, International Dental Implant Association
Mastership, Misch International Implant Institute
Masters, Rosenthal Institute for Cosmetic Dentistry
Member, American Academy of Cosmetic Dentistry
Member, American Society of Dental Anesthesiologists
Intravenous (IV) Sedation trained - Albert Einstein College of Medicine
Conscious Sedation Permit, State of Florida